California Electric Can Take Care Of Your Residential Electrical Needs
Switches and Breakers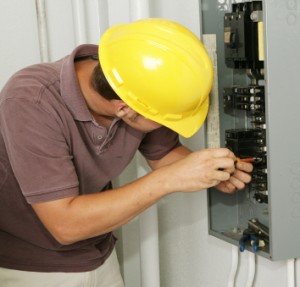 Dimmer switches allow you to add ambience to your room by setting just the right amount of light for a dinner party or when turned all the way up, reading your favorite electrical contracting magazine (yea, right!). Call and hear how easy it is to have dimmer switches added to your home's special areas. We also offer decorative electrical switch options.
Lighting and Fans
We offer a full range of interior and exterior lighting options and electrical installation services. Whether it is one light fixture, a custom basement lighting layout or a comprehensive outdoor security lighting solution, we have the necessary tools, knowledge and experience to turn your plan into reality.
Electrical Panels and Wiring
Your electrical service panel can handle only so much. Older homes were not designed with today's technology in mind. Today we enjoy microwave ovens, deep freezers, and hairdryers in every bathroom, hot tubs and central air conditioning. At a certain point, and regardless the age of your home, your electrical service panel can be tapped to full capacity (all circuit breaker slots filled up). If you wish to add one more circuit to power a new appliance or device the only thing to do is upgrade to a larger size and higher capacity electric service panel box.
Basement Finishing, Kitchen and Bathroom Remodeling and Room Additions
Finishing your basement increases the value of your home and maximizes enjoyment of all available floor space. California Electric is fully equipped to provide you a complete custom wiring solution to meet your exact basement finish requirements.
TV – Telephone – Data Communication cables, wiring and connections
If it is a wire or cable that carries electricity or a signal, we can do the job! Our TV/Phone/Data wiring and cabling service technicians are well versed at installing all types of electrical and telephone wires, antenna, cable and satellite TV coaxial cable plus computer network data – CAT 5e, CAT 6 – cables. We hand measure and custom fit each run of wire and cable to leave a professional image you will want to show your friends. Unfortunately, when we are finished there will not be anything to see! All electrical, telephone, TV and data wires and cable will be hidden in the walls only to peek out where you plug in your connection.
Home – "Whole House" – Surge Protection
Power surges cause tremendous damage to your valuable electrical equipment. Learn all about what you can do to protect your property from electrical power surges.
You need an honest, safe and reliable electrical contractor. California Electric is ready to serve you! You receive award-winning service at affordable rates! Our electrical contracting service area includes All of Northern California. Contact California Electric today at 650-342-5949